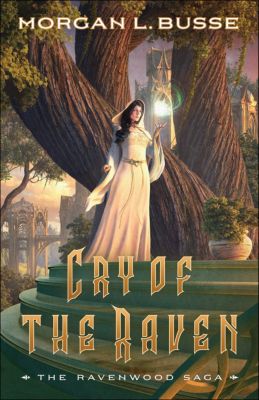 Title: Cry Of The Raven
Author: Morgan L. Busse
Publication Year: 2020
Personal Rating: ★★★★
Genre: Christian Fiction, YA, Fantasy
My Thoughts:
Cry Of The Raven was a wonderful conclusion to an engaging trilogy. Although I have enjoyed all three books of this trilogy, my favorite is definitely Cry Of The Raven. Seeing Selene and Damien discover the full scope of their gifts was inspiring and beautiful. This book was a satisfying and interesting read.
One of my favorite things about the Ravenwood trilogy is the character names. As I know I have mentioned before, I find unique character names incredibly refreshing. A unique name helps to set a character apart from the hundreds of other characters hanging out in my brain. Selene, Damien, Amara, Opheliana and so many of the other names in this book are beautifully unusual.
I love Selene as a main character. Although her story arc is not particularly rare, a trained assassin who comes to the "good side", she manages to feel unique. Selene is far from perfect and is fully human in her struggles surrounding how to use her gift. As tensions build and a war with the empire becomes inevitable, knowing that she could essentially win the war in a night, before it has even begun, is a heavy and tempting burden, but with the Light she is strong enough to stand firm.
Selene's growth as a person is a main theme of the trilogy. When you first meet Selene, she is cold-hearted and unfeeling. As the story develops, Selene learns to open her heart and to shoulder the pain that comes with letting yourself feel and love.
All of the characters were strong, human and interesting. I am sad that we will not be getting to know any of them better. The stories of the young gifted leaders were inspiring in a way as they learned how to lead and protect their people.
Cry Of The Raven is a book I would recommend to fans of the Weaver Trilogy and those who enjoy clean YA fantasy.
"Does the sun disappear when clouds come? Or is the sun still there? Just as clouds cannot quench the sun, the darkness cannot quench the Light." – Morgan L. Busse
---
What are you reading right now? Any interesting books on your summer tbr? Have you read any of the Ravenwood Saga books?